The Angry Stickman Network - angrystickman.net/index.html
A collection of online works created and maintained by Jon Wire.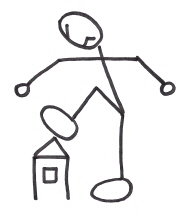 The Network
For now, the collection resides here in this abbreviated, unorganized index:
Web Sites
MTG Deck Analyzer - Deck analysis tool for Magic the Gathering. Current top-ish priority.
svidgen.com - Online Bookmarking. I've used it for myself in the past. Not actively maintained.
thepointless.com - ... Your guess is as good as mine.
Apps
Code Libraries
QuickDAL - Active Record style DAL for C#/.NET. Not actively maintained.
nrfpu - Code generation experiementation script. Very slow-going. Low priorty.
Come back!
This index will be updated as new projects are introduced and as old projects are updated.
Details and backstories will be added.
And, significant network news will be posted here.